KIDS PLAY TO LEARN
Children learn through their environment and surroundings, they use this opportunity to explore and question new and interesting oberservations. At preschool age, class is not the only space for kids to broaden their knowledge, kids gain knowledge outside classroom while they are playing they also and absorb surroundings through outdoor activities through picnics and trips into reality with their peers. These interesting educational activities aim to get children to broaden their horizon, increase their knowledge along with love for exploring. More importantly, children will get to know more about themselves, as well as recognize the world and their relations with their friends. Children play to learn, step out of their house, classroom at early ages.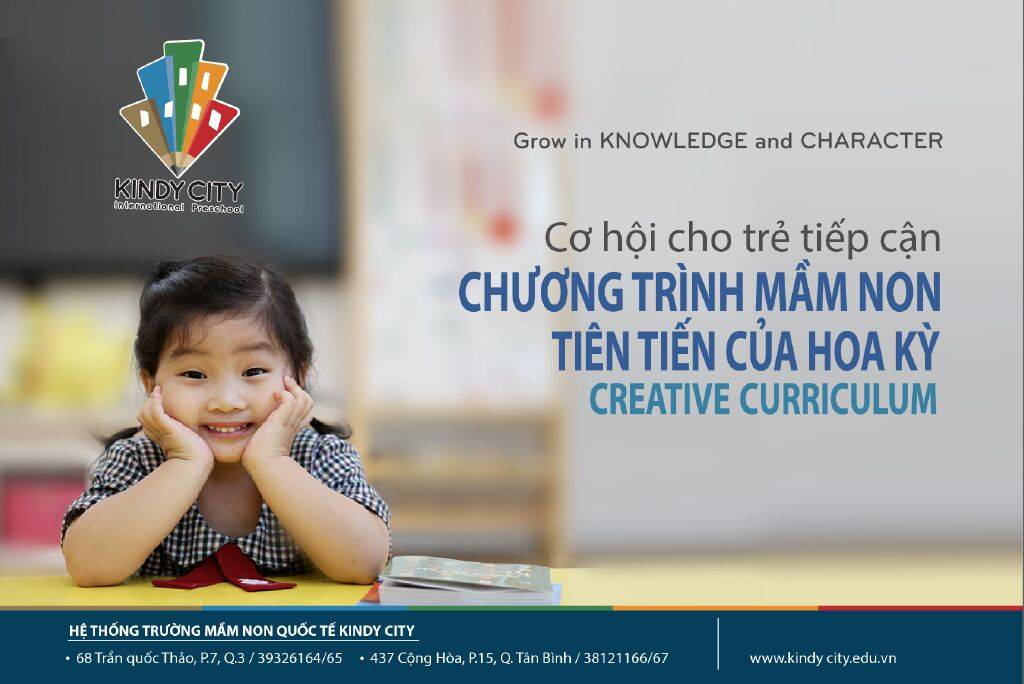 AT KINDY CITY CHILDREN LEARN THROUGH ENGAGING GAMES
Based on the teaching and raising methods "Learn through Play" within the framework of flexible Curriculum- being constructed upon National Framework Early Years Learning Program, and integrated with  The Creative Curriculum for Preschool Programs from USA, Kindy City International Preschool designs highly educational games in order to develop knowledge and skills for children scientifically based upon specific and profound content in education. During an entire academic year, children are going to take part in 40 major activities outside the school, which are practical lessons categorized by course themes. Those activities help children get exposed to reality, improve skills in different areas ranged from physical, linguistic, and social-emotional cognition.
CHILDREN PLAY TO CONSOLIDATE WHAT THEY LEARN IN A NAIVE WAY.
Apart from 40 aforementioned major activities, children also participate in at least 1 activity outside the classroom every week. These activities are indispensable factors of the program by means of creating the opportunity for children to consolidate, revise and expand what they have learnt in the week. Kindy City Preschool is devoted to organizing time and space for the students to particapte in weekly on campus outdoor events that are undertaken by both Vietnamese and native teachers. Within this time, children are able to interact, have fun and express their own opinion in a clear and youthful way.
CHILDREN PLAY TO LEARN HOE TO GET ALONG WITH EACH OTHER.
With the high frequency of outdoor activities, Kindy City is willing to invest and strictly implement diverse teaching methods and help children develop in accordance with adequate pedagogy suitable for all ages; which is that "every activity children play and to learn must create opportunities for children in forming and developing skills such as learning skills". In fact, while playing, children are guided how to learn- a sustainable method to get and update the knowledge in the long run. Moreover, throughout playing activities, the model standards stated by Josephson Institute (USA) which are respect, trust, careness, responsibility, fairness and citizen awareness are inserted carefully into learning through play and at Kindy City, those values help children grow up with good manners, and encourages them to get along with their friends.
Để hiểu rõ hơn các nội dung vui học và an tâm với một môi trường nuôi dạy an toàn, thân thiện, có cơ sở vật chât tốt đảm bảo cho sự phát triển hồn nhiên của trẻ, quý phụ huynh có thể trực tiếp tham quan nhà trường, cho bé làm quen với không gian học tập trước khi ghi danh cho con vào chương trình.
ƯU ĐÃI 10 TRIỆU ĐỒNG HỌC PHÍ NIÊN HỌC 2015 – 2016 (Cong Hoa Campus)


 Kindy City International Preschool
68 Tran Quoc Thao Street, Ward 7, Dist. 3
437 Cong Hoa Street, Ward 15, Tan Binh Dist.
3932 6161 – 3812 1166
info@kindycity.edu.vn
www.kindycity.edu.vn