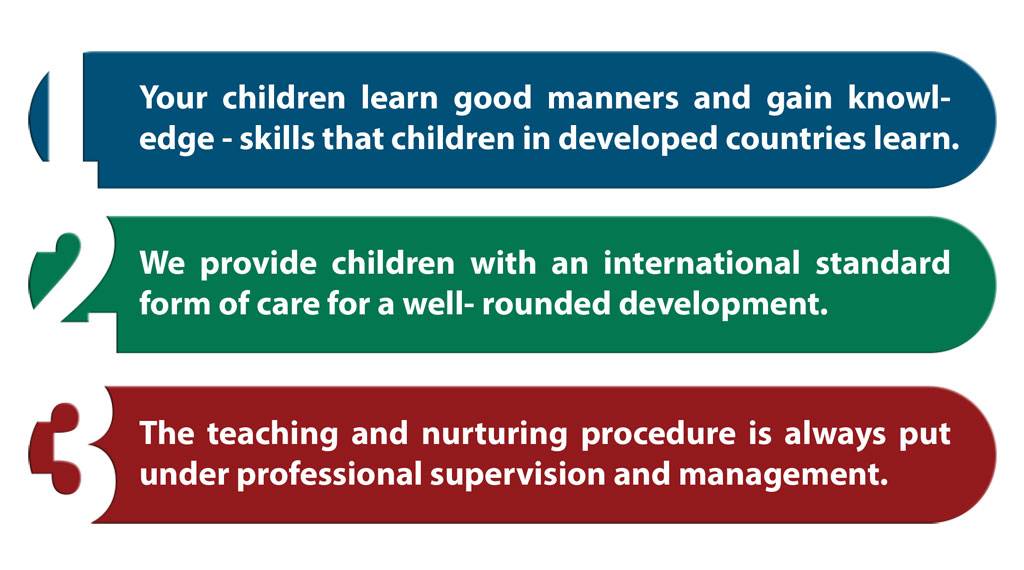 Creative Curriculum Program helps students master standard English skills from an early stage and to acquire modern knowledge well compared with children in the United States and advanced countries.

Children become excited about learning because of the approach to knowledge – Children Learn how to Learn, and have excitement from that as well as constructing knowledge for themselves.

Children absorb knowledge thanks to the "learn through play" method, and each activity is an opportunity to consolidate and expand both knowledge and skills.

"Team Teaching" method helps children to remember longer, expand the awareness and acquire knowledge easily. Gradually, children form their independence, motivation to learn and enjoy going to school.

All children are taken good care of and have equal opportunities in learning. The method adjustment and learning content matching each child's learning capacity are based on the evaluation and the standard scale of the Creative Curriculum Program.

They are equipped with the skills and life values that are formed from the early ages in order to form their good behavior focused on independence and a sense of responsibility. These are the foundations that form their personality from the early stages. (Personality Education Program- Josephson Institute USA).

The SAFE study conditions (toys, classroom and playground), eating, sleeping, mode of hygiene and food safety are regularly monitored along with the physical development and health status. They are educated with the basics of nutrition to obtain good living habits, a healthy diet and balanced development in their early age.

The motto "Children are at the forefront," is expressed through the compliance with the management process, monitoring and controlling the rearing operations as well as risk control process regulated by the management board.