In Vietnam for the first time we have introduced the Creative Curriculum throughout the Kindy City International Preschool System. We provide content that develops all areas of child development: Language, Speech, Physical, Cognitive, Social emotional, and Creative arts.
This curriculum is widely applied in the United States and many other developed countries. It develops a positive and advanced way of bringing up and integrating children into a global culture.
In order to encourage children to enroll this year, KINDY CITY INTERNATIONAL PRESCHOOL INTRODUCES A CONSTRUCTION TABLE as an incentive (1 March 2017 – 30/04/2017).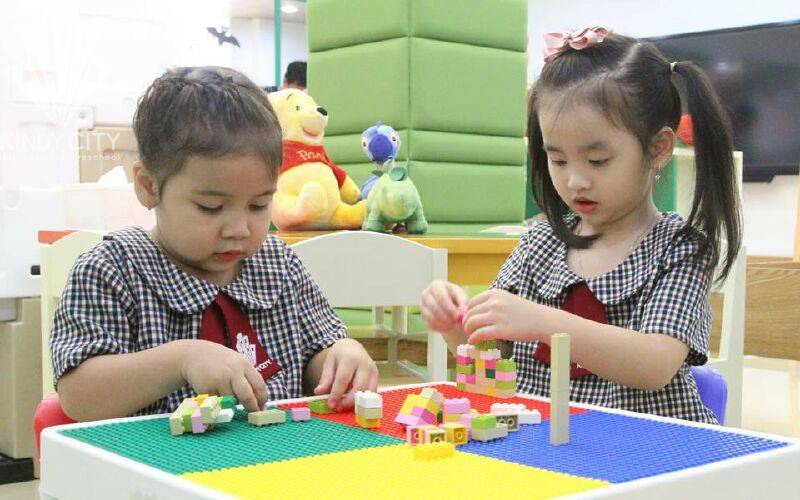 Each child enrolled, will receive a Construction Table (1 table, 2 chairs and attached lego blocks), a school bag, a hat, a school uniform and a physical training uniform for children to participate in Kindy City's outdoor activities.
To better understand the content of learning and gain peace of mind with a safe, friendly environment with good facilities to ensure the growth of children, parents can visit the schools directly. Get familiar with our learning space before enrolling your child into the program.
Kindy City International Preschool:
[District 3] 68 Tran Quoc Thao, Ward 7, District 3, HCMC 9 (08 3932 6164)
[Tan Binh District] 437 Cong Hoa, Ward 15, Tan Binh District, HCMC (08 3812 1166)
[Binh Thanh District] 33/1 Dien Bien Phu, Ward 15, Binh Thanh District, HCMC (08 3514 0208)
[District 2] 01 Ngo Quang Huy, District 2, HCMC (08 38989 358)