Looking at these pictures, some parents may reminisce about the childhood memories of hot summer middays sneaking out with neighbor friends to build plant huts, then huddle up to play with cỏ gà grass game (that mimics a rooster fighting) and toy gun made from banana stems. Those lovely countryside activities are the latest ones among the series of activities "Mischievous Childhood" of Dolphin students from Ly Thuong Kiet Campus- Kindy City International Preschool.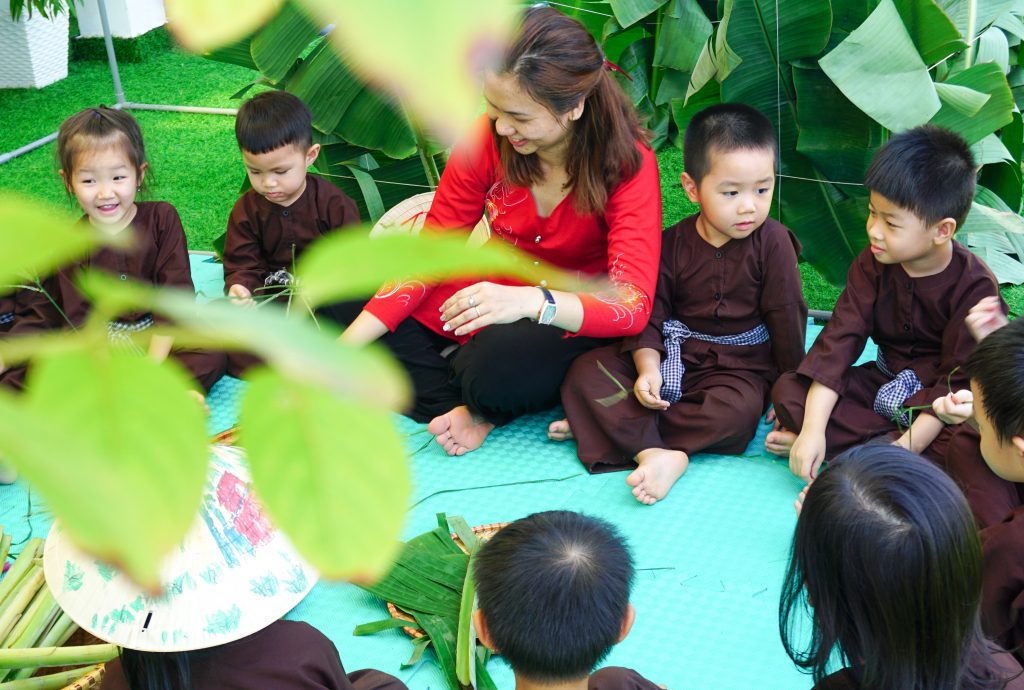 To give students a sense of genuine joy of what children in the countryside feel, Dolphin's homeroom teacher prepared in advance for each student a set of clothes including bà ba shirt (a Southern traditional shirt) with khăn rằn (a traditional checkered black and white shawl), and nón lá (iconic bamboo conical hat).
At first, both the teachers and students had some difficulty arranging and settling the banana leaves onto the hut frame, so it took a longer time than expected to finish the hut. Finally, everyone managed to build the green hut successfully with pride and admiration. Dolphin students just could not help crawling inside and outside for fun.
The excitement did not stop there when Ms Hong showed another surprise from a basket: a handful of cỏ gà (literally means roaster- grass, a type of scutch grass) that she had picked up before. Students had mixed feelings of awe and curiosity what they were going to do with "this natural toy" that mimics a rooster fight. As the teachers explained how to play, everyone was so into it and took turn playing passionately with laughter and joy. They even fell on the wet grassy ground but did not mind it and quickly got back to the game.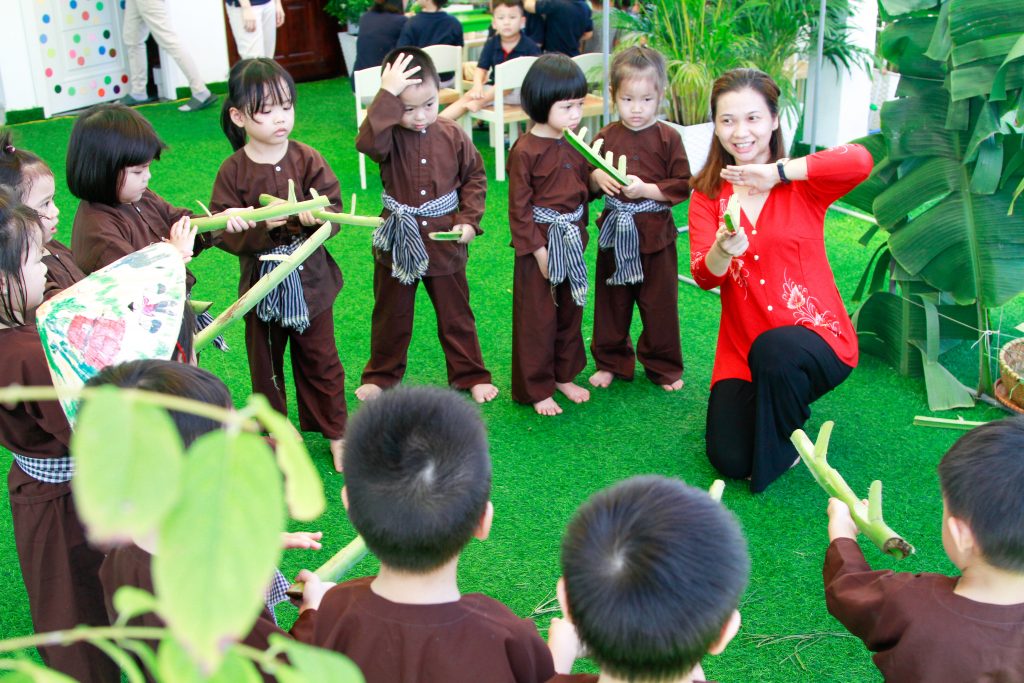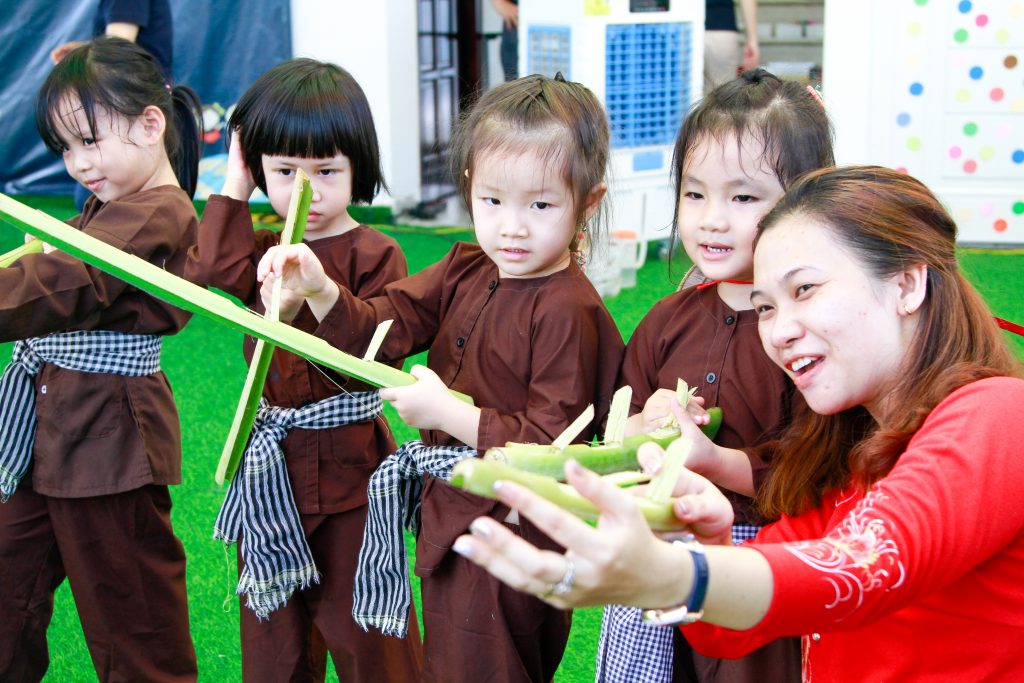 The most exciting part was probably firing guns made of banana stems. At first, students still hesitated to slap the vertical pieces (served as bullets); the sound was therefore not loud enough. Yet, as long as they got hooked on the toy, they were put into two teams (one inside the hut, the other outside) and challenged which team making the loudest sound would be the winner. At the end of the games, all the "guns" ran out of "bullets" and was nothing but damaged stems with broken pieces.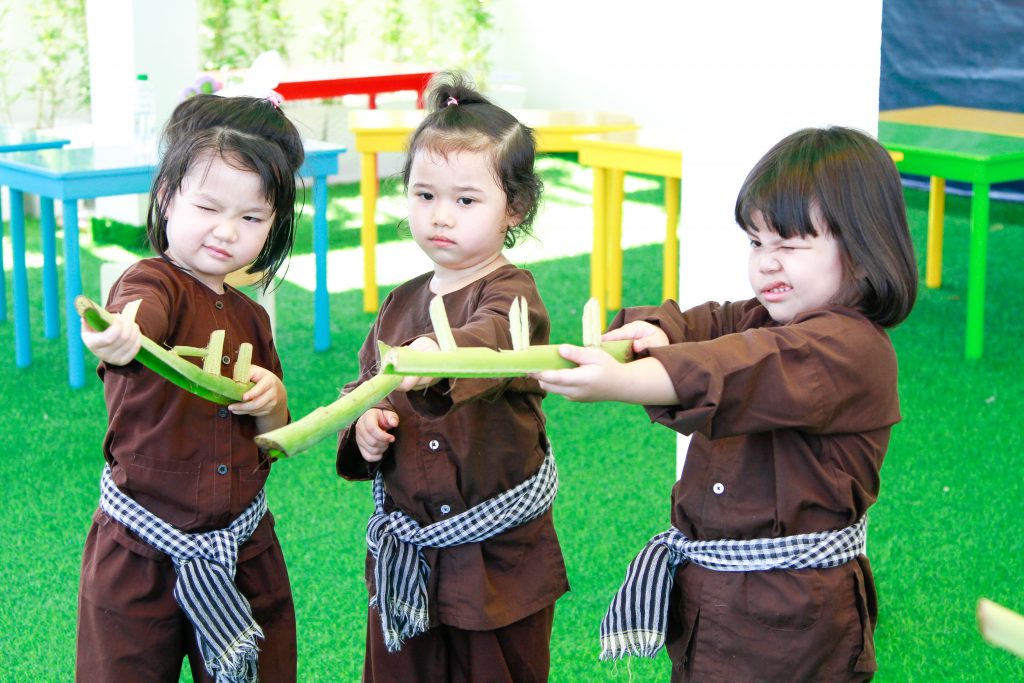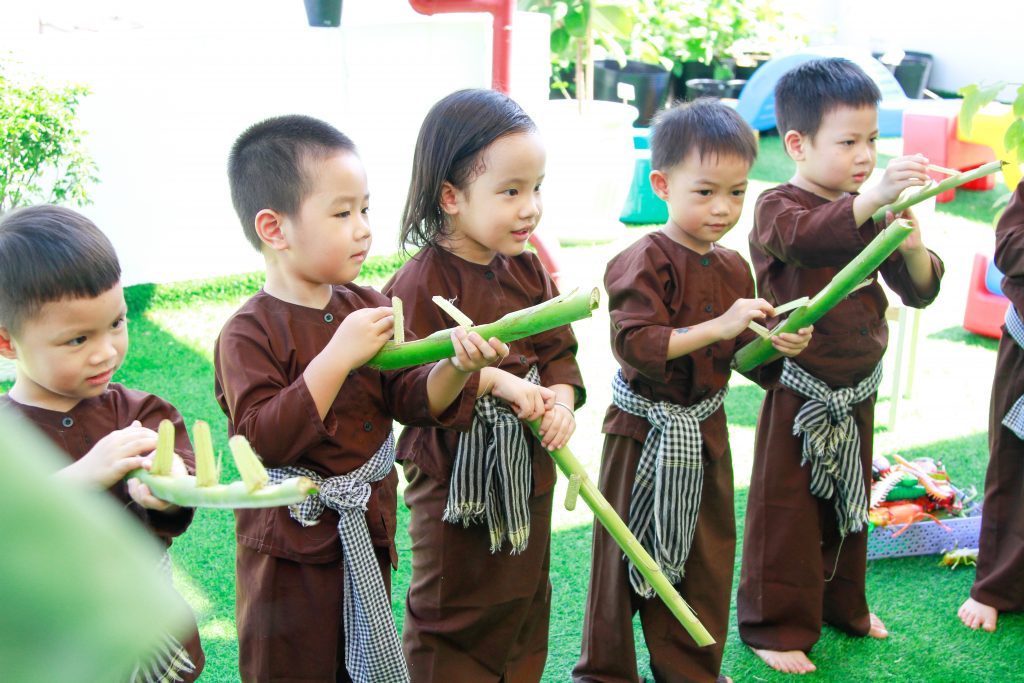 Aside the benefits of physical, observational skill and team spirit that students get from building huts, playing with scutch grass and banana stems, Kindy City students at Ly Thuong Kiet campus did have truly unforgettable childhood memories, which cleanse their soul and develop their characters from this time onwards.