Over the weekend, Kindy City International Preschool organized a workshop on "The treatment of seasonal diseases in children". Dr. Nguyen Tri Doan – Head of Pediatrics at International Health Clinic Victoria Healthcare was invited to speak to over 300 interested parents.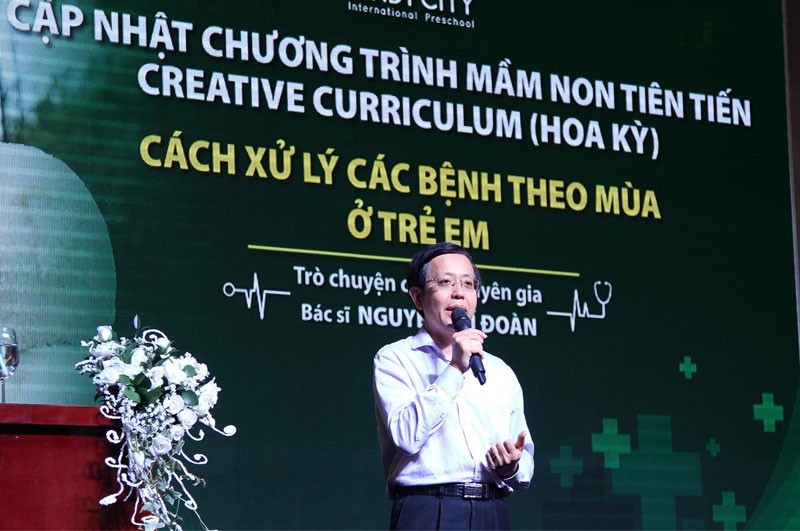 Some key points below were shared by Dr. Nguyen Tri Doan – Head of Pediatrics at International Health Clinic Victoria Healthcare.
This workshop is held annually as part of the "Parenting Workshops" series to connect parents and schools with helpful pointers in education and alimentation.
According to the speaker, on avarage once a month, each child under the age of 6 will usually have a coughing phase. Each coughing phase might last for 2 weeks. However, children can still maintain their daily lives despite the illness. Children's health should be supervised at home in case they feel tired. No matter how bad the cough may be, children's resistance usually tends to strengthen and the cough will gradually reduce by itself. Therefore, if children are affected by a virus and are coughing, they may still attend school as their immune system will be strengthened.

Q & A part satisfied some of parents needs.
Parents should not worry so much about illness' spreading at school. It should be considered as a chance for children to further develop their health and improve their immune system. Children should not miss school because of minor ailments. Below are 6 steps for preventing children from contracting infectious diseases.
Drink water as and when a child needs it children'needs. (Breast milk, coconut water or Oresol)
Ensure children are up to date with their vaccinations. Don't forget to bring the booklet recording the follow-up immunizations (children may sill have their vaccinations if they have a cold, diarrhea or are using antibiotics). There are some missing vaccines such as: pneumococcal conjugate vaccine. Doctors will use the vaccination booklet to fully evaluate children's health and administer the appropriate treatment.
Regularly wash hands with soap or antiseptic.
Cover mouth correctly when coughing or sneezing (do not use hands as they can easily spread viruses). We are advised to use the inside of the elbow as elbows are rarely used to touch things. This helps prevent the spread of infection.
Avoid smoking.
Schools and parents should regularly clean toys and surfaces with disinfectant.
At the workshop, the school will update parents about the new content of the Creative Curriculum- Teaching Strategies implemented in school year 2017-2018 and summer 2018.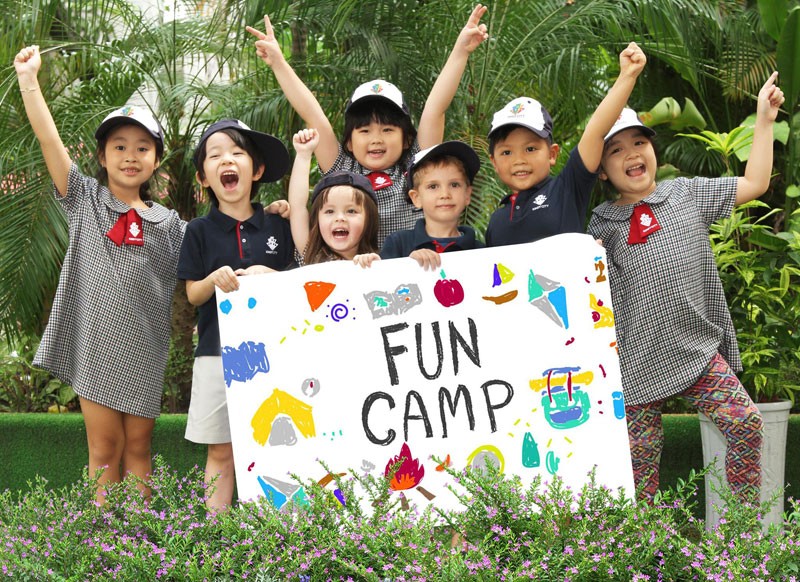 Active Play – Active Learning Summer 2018 is a series of activities lasting 8 weeks (From June 4th to July 28th) to enhance children' ability not only physically but also socially and through simple living values. Summer 2018 will have a strong emphasis on developing cognitive and creativity skills.
Joining Active Play – Active Learning gives children the chance to become more independent and help their confidence grow. This year's school slogan in educating children throughout the summer months is: "Keep your child's brain active this Summer".